SEASON 1: On this world, the president's affair is considered perfectly acceptable because women are thought of as nothing more than chattel. It turns out that the president in question is Arturo's scurrilous double, so to educate society about the evils of sexism Quinn runs against him and ends up winning by the narrowest of margins. Meanwhile Remmy goes on a pub crawl and gets rip-roaringly drunk, but ends up learning the true meaning of Christmas. TITLE: "Prince of Males"

SEASON 2: On this world, special guest president Mel Tormé is gunned down right before the Sliders' eyes immediately after they land. Our heroes must then spread the truth about the Swiss war over the Internet before a new leader is elected. At the end, Mel is revealed to be miraculously alive - even though just 40 minutes ago he was gruesomely blown to shreds onscreen, right down to little Mel-bits splattering the camera lens - so he slides with the others. Like Ryan, Henry, David, Diana and Michelle before him, Mel is never seen again. TITLE: "Accession"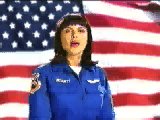 SEASON 3: Wade must hack into a computer to uncover proof of the conspiracy, while the others battle supernatural mutant Presidential Guards who for no particular reason have glowing green eyes. Maggie gets a job as a White House intern... um, we'll just leave it at that. TITLE: "This Slide of Watergate"
SEASON 4: The war is somehow being caused by Kromaggs who have drugged the population of America into TV addiction. For some reason society has not yet fallen apart even though everyone does nothing but watch TV all day. The writers attempt to deflect accusations that they're as bad as Season 3 by introducing a completely incongruous scene where Quinn worries about not being able to find Wade. Maggie comforts him by telling him to forget about Wade. "You're with me now!" TITLE: "Slide by Cable"