Here's Remmy finding out that Christina knew Wade...
CHRISTINA: You must be Rembrandt. Wade told me all about you...
REMBRANDT: Wade? You know Wade??
QUINN (walking away): Oh yeah, that. Didn't think it was worth mentioning.
REMBRANDT (rushing to stop Quinn): What's wrong with you, man? If she's here, we've gotta go rescue her!
QUINN: We can't. We, uh, don't have time. Only a week or two until the slide.
REMBRANDT: This is *Wade* we're talking about!
QUINN: Big deal! We can take Chrissie here along, and there'll be chicks enough for both of us!
And here's Quinn threatening Kromagg Unit Four:
QUINN: You have two choices right about now: help us, or I slowly disembowel you with a pizza-dough cutter.
KROMAGG: You couldn't do such a thing: you're human.
QUINN: Not anymore. This is the Peck era!
KROMAGG: So, you've finally lowered yourself to our level...
QUINN: Know what, Maggot? I used to care, once. There was one time back in the second season when I thought I'd killed someone in self-defence, and it damn near tore me up inside. But I left my heart in San Francisco! Now hack us into the Maggot Intranet or I'll be able to sell your remains to a violin string factory!
Quinn and Maggie getting all gooey in a totally superfluous scene:
QUINN: Sometimes it seems like we spend all our time taking care of other people. What kind of viewer appeal do you get out of *that* altruistic junk? I want some action, honey!
MAGGIE: Now you're talking my language!
(QUINN and MAGGIE begin furiously necking in the hallway)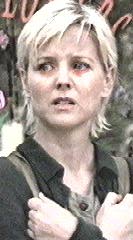 CHRISTINA: Maggie! Hurry, the baby's dying!
MAGGIE: Later, sister! We're gonna make SFC's ratings week!
And the monumentally callous conclusion:
QUINN (displaying inexplicable cheerfulness mere moments after two people were killed on the very ground where he is standing): You know, we could end up on any kind of world. Another Kromagg war... or another Kromagg war... actually, that's the only kind of world our writers can think of as an example at the moment.
CHRISTINA: But if it is, you'll take me with you, right?
MAGGIE: Nope! You're just going to have to make a stand. You tell those Kromaggots, 'This is who I am, and this is where I live.' And don't you dare try to follow us -- I still have my gun and I really enjoy using it.
QUINN: How about it, huh? Ready to stake your and your baby's lives on a roll of the dice? Last chance to back out if you're chicken!
CHRISTINA (tears welling up in eyes): Please... don't make me...
REMBRANDT: Don't worry, I'm sure you'll have an easier death than Henry the Dog. You don't *want* to know what we did to him.